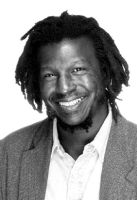 Cornelius Eady
b. 1954
Fetchin' Bones"
My father's a sealed tin of dust, riding in the trunk of
my rental car.
My sister and niece are in the back seat, and I
choose not to inform them of this.
Later, I will meet with my cousin at the church
where the memorial service was held.
I will set the box on the curb while we talk.
I am carting around the rubble of a man who
loved to call me stupid, who made my sister feel like
nothing, who drove my mother nuts.
I have done this in order to shave a few dollars off
the funeral costs, I tell myself, as a small part of me
gives in, fans the smoldering pleasure.
© Cornelius Eady